KeyBox KeyControl: the intelligent key cabinet
The Keycontrol series is the smartest KeyBox system with electronic key identification and management for tracking and control of each individual key. The key cabinets are administered via the KeyWin software which logs and saves all events.
The Keycontrol series is fully flexible and can easily be expanded to store anywhere from 14 to thousands of keys in just one key management system. In line with your growing needs, you can easily add more strips and key positions to your key cabinet or add more key cabinets to the same system.
Various models of the key cabinets are available, with a maximum of 42, 84, 210, 224 and 924 keys respectively in each cabinet.
Locked & unlocked key positions
The IntelliPin is available in two versions. Non-lockable pegs sound the alarm immediately if a key is removed without it first having been authorised via the KeyWin software. Lockable pegs go a step further and physically lock the key/peg into the strip.
Personal code with display for overview 
The key cabinet is equipped with a keypad for programming and entering personal codes. A clear display provides an excellent overview and menu navigation. Activate alarms, see who has taken out a specific key or opened a specific compartment, all directly on the display. With battery backup, you never need to worry about access to the cabinet.
Intelligent key peg
Even though the IntelliPin itself does not have any intelligence, it is because of each peg's unique identity that the peg can log all events together with KeyWin. It is easy for you to look up who has had which key and when.
Choose the number of key strips in your cabinet 
You can choose between a locked and unlocked key strip, or combine the two in the same cabinet - thus starting with a smaller investment that can be expanded if needed.
Connect a card reader, RFID or alcohol interlock 
The key cabinet can easily be connected to an external device such as a card reader, RFID or alcohol interlock for added security. Being able to combine an alcohol interlock with our key cabinets means that those under the influence of alcohol cannot access the cabinet and thus cannot get to their keys. This means it is safe to check that no one gets behind the wheel while drunk.
 
KeyWin6: gives you complete control, easy to use and easy to manage
KeyWin is a program that simplifies your work in a flexible and easy to grasp way. You can monitor and control both key management and storage of valuables. KeyWin is easy to grasp and very simple to use. All events are logged and saved in KeyWin.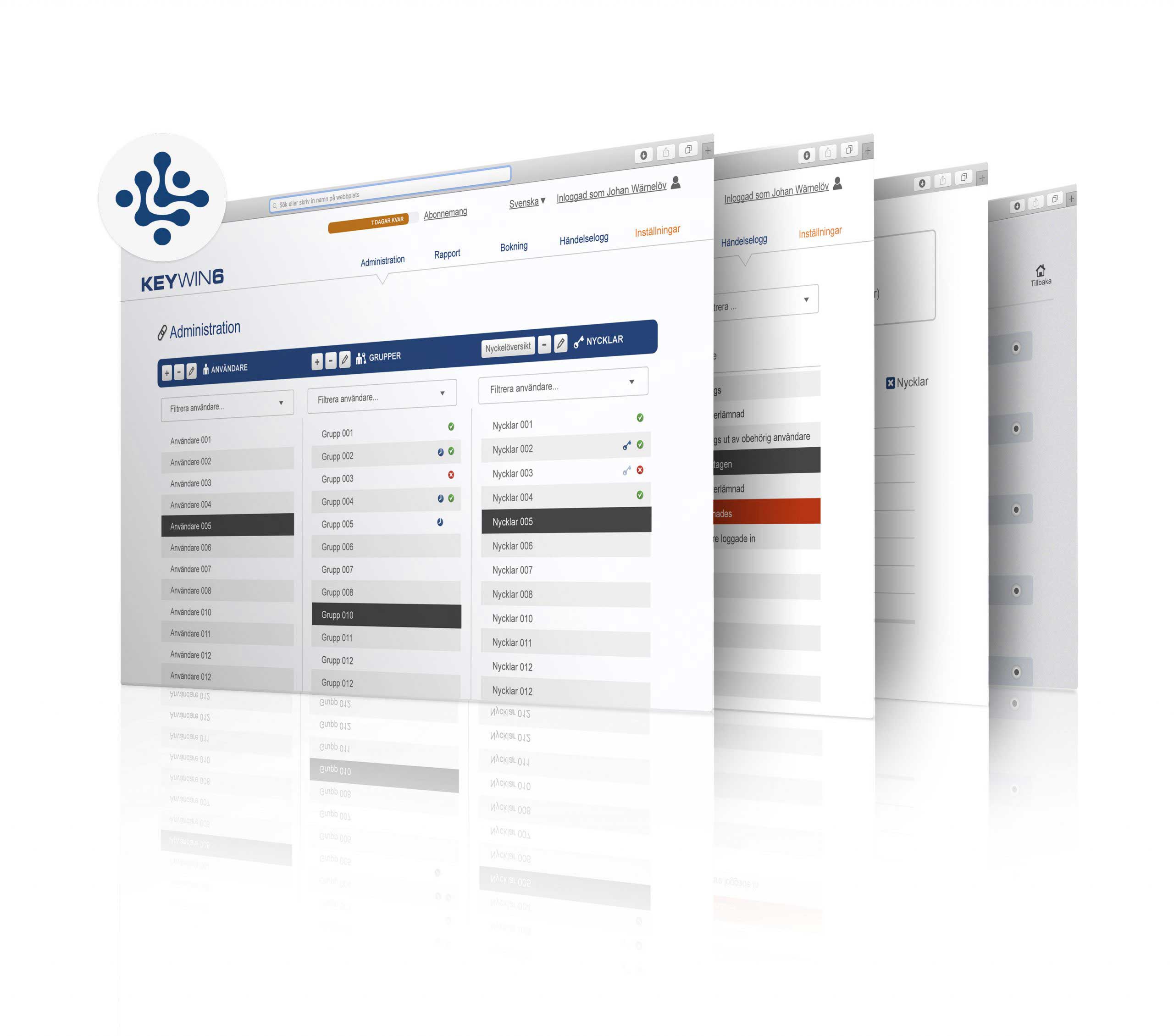 Integrate with your other access systems 
Administering different systems often involves duplication but also the risk of errors. KeyWin6 can be integrated into third party systems, such as access control systems, alarm units, car hire systems, hotel systems and so on.
Simplify your daily administration
Ready-built API for self-development
Ready-made integrations to existing systems